·Effective & Durable: Bike cover with PU and UV coating protects bicycles from dust, dirt, sun, rain, UV, and pollutants. Ultraviolet-proof up to 50.
·Secure & Practical: Lock hole design at the area of the front wheel allows using a bike lock with the cover on. The bottom double-stitched elastic hem and specially designed buckle for a snug fit keep it secure on those windy days.
·Convenient & Compact: Hanmir bicycle cover has a compact size with a velcro design that can be tightened on the bike frame or placed inside the basket neatly.
·XX-Large Size: 82.6 x 43.3 x 47.2 inches, well-suited for 2-3 bikes. ideal for mountain bikes, road bikes, beach cruisers, and mopeds.
·2 Year Warranty: In case you have any problems with your cycle protector we'll have it fixed or replaced at no cost.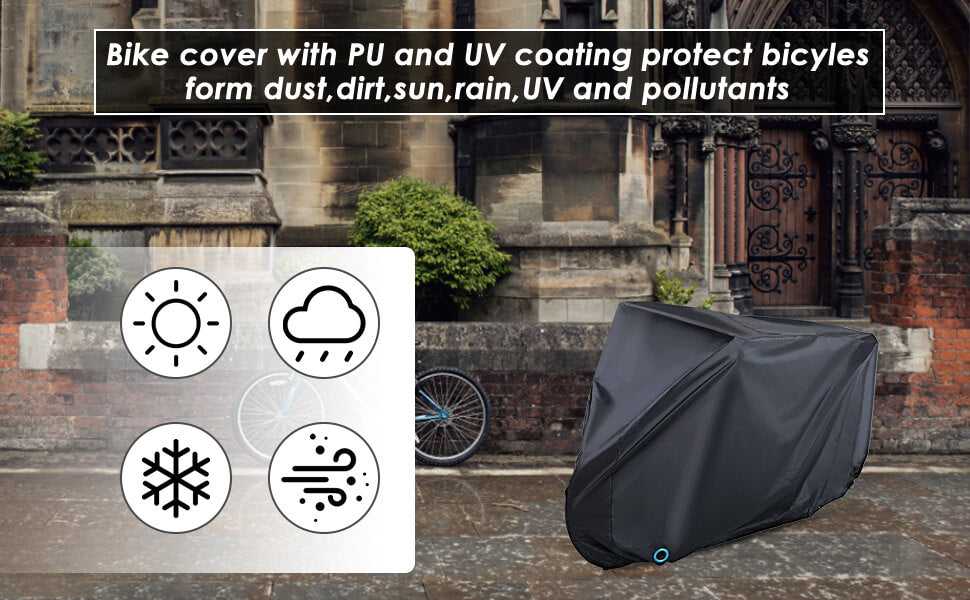 Great Protection for Your Bicycle
The Waterproof Bicycle Cover will give your traveling equipment the protection it needs when out in the elements.
Anti-wind Buckles: Features elastic hem and buckle, storm strap situated at the rear and front to keep the cover in place during windy conditions.
SIZE: 78.7" x 27.5" x 43.3"(L*W*H), with the extra-large dimensions to ensure the cover will fit practically any mountain bike, electric bike, and city bike up to 29" wheel size.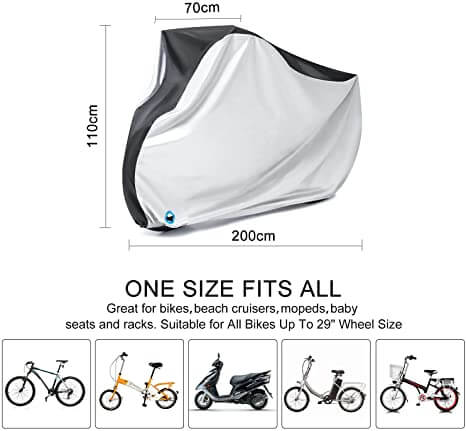 Durable Material High Protection
Anti-rain & Waterproof and UV Resistant: Premium 210T Polyester fabric with PU and UV coating, protects bikes from weather, dust, dirt, and sun damage. high ultraviolet-proof protection to keep your bike in shape indoor or outdoor.
A Carrying Case: Easy to pack up and transport with you, an ideal tool for almost any trip.
Package Includes: 1 x Bike Cover/1 x Carry Bag